Transportation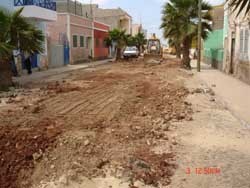 Airport:
Sal Airport is just outside Espargos. If backpacking and arriving during the day, some people on leaving the airport walk down to the main road and wait for an Aluger (mini bus) to stop and pick them up (if there is room). Make sure you are heading off in the right direction to Santa Maria and not Espargos.

Alugers:
It will cost you either 1euro or 100cve (escudos) to use an Aluger to take you to Espargos.

It is the same price on the return journey. You can get off the Aluger at any point. You can also flag one down to pick you up (if there is room). The cost will be the same. They have Pick Up trucks they use as Alugers also, these are open topped with wooden benches. You may find that you will get more sun burned or wind swept on occasions when using these, also hang on tightly.

There is also an Aluger which travels between Espargos and Palmeira, the cost is 50cve (escudos).
Taxi:
One taxi driver charged us 700escudos from Santa Maria to Murdeira, most others charged 400-500escudos.A taxi ride to the airport that cost us 500esc during the day cost 1000esc at night.

Bus:
There is a bus service that travels to and from Murdeira which is free to those staying at Murdeira, it stops outside the BCA bank in Santa Maria. It didn't operate on Sundays.


If you are served ice in your drink, you can ask to have it without ice, it's up to you whether you want a fresh new drink instead of removing the ice. Water for ice cubes can either be tap water or filtered tap water, filtered water still upsets my stomach for a few hours!
The Mini Buses (Aluger) travel to and from Santa Maria and Espargos for 100esc each way. Times are as and when, but they stop at night.
Driving motor vehicles -
The Police may stop you to check your documents. Don't forget that you should wear seat belts in the front of a vehicle. They will ask you for your driving licence and proof of ownership or hire. They will ask you to operate the front lights, rear lights, to test the break lights and look at your tyres. The Police don't speak English.
Off Road driving:
If you are not hiring a vehicle from Avis/Hertz or another reputable company, please make sure that if you are going off road, the 4 wheel drive works and the car is reliable. If you can share a vehicle with other people then it obviously works out cheaper.
Don't forget the island isn't very big and you could drive around it in a morning and just take a quick look at everything. Take water with you to drink in case you break down, a hat in case you have to walk for help, a mobile phone that is charged and you have the owners contact telephone number as well as your hotels, it does help.
Don't drive to close to the sea when off road, there maybe turtle eggs under your tyres and you don't want to break any. Also make sure that the tyres are good, our hire vehicle had a puncture and a flat tyre at Pedra de Lume, fortunately it was early morning and light, just as some locals were passing and they took us to some workshops just up from the beach where they put air in one tyre and changed the spare.

Car hire:
Seems quite expensive to me. Don't know how they are going to cope with all the new tourists wanting to hire more cars than are available!


If you hire a vehicle, check that there aren't any animals underneath it sitting in the shade, before you pull off. I have seen and heard a number of animals hurt this way, some don't get seen by a Vet because of the cost of treatment.

We were asked in Espargos if we wanted our hired vehicle cleaned, we said quite clearly 'no'. We returned to find them cleaning it and demanding payment for this provision.

Bumpy Roads & Tracks:
I have said to be careful elsewhere on this website if you have problems with your back or other physical problems, especially if you are going off road on buggy's or four wheel drive vehicles. Even some of the taxi drivers drive at speed down bumpy roads, so it is possible to irritate an injury or other physical problem. Same goes for organized trips around the island or on other islands.


Wheelchairs and mobility:
The roads and pavements will cause a problem to some people. Lack of street lighting, proper roads and pavements will provide some difficulty. Using wheelchairs on cobbled stones and roads will be quite bumpy for some. Wheelchair availability is limited to a few hotels and what they have available may already be booked or hired out, so please check. Some shops, restaurants and bars will have steps and no ramps.


Pavements and Roads:
There are many roads that are being dug up to lay new pipes or cables in and around the town. Some of the roads are now on a one way system.

Rain during January made the roads and tracks very muddy.
Not many holiday makers find high heels of any use, the roads and pavements (where they exist) are not like back home in UK. The streets aren't that well illuminated at night either.

Pavements: many are cobbled, I have tripped many a time, fortunately I didn't fall, but I dread to think what would have happened if I had!