Our-Service Fee

Once you have decided that you want to come to Sal for either a Marriage Blessing, Renewal of Vows or Love and Devotion Reading and wish to book the service through us, we will require you to pay a 25% of our costs for our service, this will be the non-refundable booking fee. It should be paid by bank transfer.
Following that, 25% paid is to be paid on the day of the pre-meeting, then the remaining 50% on day of ceremony.
Hotel and Venue Fees
These costs may require a deposit or a payment for the full amount 7 days before the ceremony. Some couples transfer the money by bank transfer in advance of arrival on Sal.
Please note:
As from January 2019 we will introduce our 'Simplicity' Service aimed at those interested in a ceremony package price with our white decorated arch. This package will suit those wanting a Love and Devotion reading, Marriage Blessing or Renewal of Vows reading. What this means is, for 'one price' you will have several things included in your service, with the option to add other items that will have additional costs.
The image below is of our 'Simplicity' set up. Further information on our 'Simplicity' service and what it includes is available within the weddings secure zone, under 'Prices'.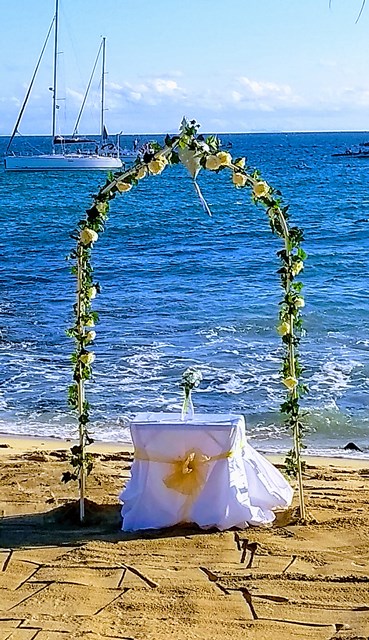 Some ceremony arrangements may require more organisation than others, for example, those that we arrange at hotels on your behalf, may require additional time to organise.
The hotels that we work with sometimes introduce new charges, or different charges to what was previously quoted.
A list of costs based on what you require under 'additional services' will be provided, but may need amending.
Please provide as much information as possible, to enable us to identify other associated organisational costs, time, labour etc in providing your service.
Ceremonies for all
---
Details
Trip Preparation
Passport
Visa
Money
Travel Insurance
Medical cover
Unlocked phone if you want to use a local sim card
Climate and Clothing
Wedding items
Sunglasses
Flat shoes
Swimwear
Take me back