Santo Antao Island
WHERE TO STAY
A number of people have been to Santo Antao on a day trip when staying on Sao Vicente. I would say that most people have said they would like to go back there and stay a few nights next time. It's not quite a family holiday island, it's more for those who want to enjoy the scenery, take walks or just get away from it all.
Pedracin village is a favourite with many travellers over the years. Accommodation for 20. Situated on the other side of the island from Porto Novo with great views across the valley. You can relax around the pool or arrange for tours. You may have difficulty on occasions getting a wifi signal.
Santantao Art Resort has 73 rooms, a swimming pool and wifi. The hotel is situated close to the port at Porto Novo.
There are other hotels in which tourist stay and expats have stayed in over the years which you may prefer to find out more about. There are a few more situated in Ponto do Sol.
Can you recommend somewhere to stay on Santo Antao?
---
MAP OF SANTO ANTAO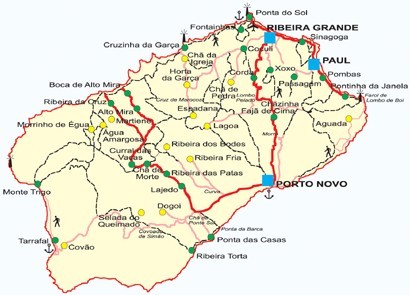 ---
THINGS TO DO AND SEE
Can you recommend things to do and see on Santo Antao?
---
WHERE TO EAT OR DRINK
Can you recommend places to eat or drink on Santo Antao?
---
Quick links
BLOG: My day trip to Santo Antao with friends - by P.Pritchard
---
External links
---
Comment 1: