Cape Verde Weather in Winter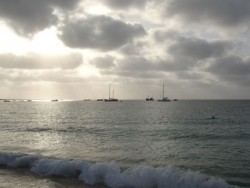 Winter months (Sept 05): some chilly and cold evenings to quite warm, bring cardigans, or some long sleeve tops just in case. I also needed blankets on my bed.

Late October early November see's the start of the wind surfng and kite surfing season as the winds slowly start to pick up. Sports enthusiasts arrive and book accommodation for the winter season, some stay till the following May.

Early December it was still really hot on Sal. Mid Dec.06 - We had 4-5 days of wind and sand mix and the sky was overcast. We felt the difference and out came the jumpers and long trousers, sometimes during the day! The weather picked up after the 6th day and we were back on the beach and in shorts. But do bring at least one warm piece of clothing, just in case! It remained nice and warm over the Xmas and New Year 06.

Again the seas become rougher during some cooler and windier weather. Several of the new pillars put in the sea to support the new pier were forced over in Dec.06.

Jan.07. – it is getting slightly lighter earlier in the evenings.

Some of the nights have been a lot colder in January and February. Jan.07. – windy to start, then went mild and warm. Jan 30th we had a good downpour of rain and some thunder and lightning. Some puddles around after two days. Feb 8th – weather has not been too good most of the week.

December 08 - A few cloudy weeks early December and some occasional strong winds on some days. A number of people spent a lovely Xmas Day on the beach, but the days between that and New Years Day o9 were a bit cloudier and breezy. New Years Day was much warmer.

Rainy Season - You don't generally need a mack or umbrellas in the rainy season. July 22nd 2008 - 8hrs of heavy rainfall in Sal, short bursts of rainfall on Maio. Aug 28th a tropical storm hits Cape Verde, floods in Praia and in Santa Maria. Many buildings on low ground flooded causing damage to furniture and electrics, not sure how much damage there was to property. Power went off as a result and further power cuts over the following days. Pumps didn't work without power so there was limited water supy to toilets and taps at times. Stagnant water remained in some areas as there is no drainage system! Some road surfaces have been dug up and are being relayed. Still no drainage system planned for the roads!
Cape Verde Weather in Summer
The winds start to drop in the month of May. Then from June it you usually notice a comparitive change, then it gets hotter every week.
July and August it starts to get humid and rain can be expected, but usually doesn't last very long. The more mountainous islands will see more rain than the flatter islands, but in saying that, the mountainous islands have seen greater drought.
September 2nd 09:
It rained last night........the same roads that were under water last year have once again flooded, click on video link below:
Aug 11th - 13th - Santa Maria Festival, normally escapes the rain but not this year. Friday festivities and weather was great. Saturday 8.30a.m. the predicted rain and storm followed with a bit of a break in the day, but the festival was put on hold. Puddles appeared everywhere with some roads flooded. By Sunday morning the site was even worse to look at. The festival had been cancelled on the Saturday and there was hope they would allow it to be extended on the Sunday, but this was not to be. Check out Facebook : Cape Verde Tips.

More mosquitoes will be around after it has rained. Don't forget mozzie repellent and bite pen.

Spring through Summer: We did have some good winds in March and April 06. Went chilly around 5p.m.

Black t-shirts worn during the day in the hotter months, attracts the heat.

Aloe Vera plant is commonly grown, useful for sunburn.

Hotter months - Take bottled water with you when you go out in the day.

Be careful when sunbathing in the afternoon during the hotter months.

Sunglasses – the islands are known for their breezes, suggest you have a pair or wrap around sunglasses just in case, especially during the windy season. Ordinary sunglasses can be worn most other times, you can get some reasonably good ones at the Spanish Shoe Shop in Santa Maria, but best bring your own.

Suntan lotion - make sure you wear some high factor at the start. The wind or breeze will not protect you from rays. Many people get sunburned due to being fooled by the breeze, even those who have said 'oh don't worry about me, I never get burned, yeh, right!

After sun – There isn't much choice in After Sun lotion, again if you do manage to find some, they may not be the original and could be expensive. Do make sure you bring plenty.

Sun hats- also a very good idea especially in the hotter months, they should be able to protect your scalp and the back of your neck.

Sand storms - Can be quite strong, on these occasions if you need to go out consider using a taxi, or you and your clothes may turn a lovely yellowy/brown colour. Wear wrap around sun glasses as this helps prevent sand and dust from getting in your eyes. Some people wear something to cover their nose and mouth. Remember to get any washing in, shut your outer shutters/doors and inner windows to prevent most of the dust from getting into your room.

According to some local residents the dust storm that occurred on 18th May 06 was the worst they had seen since they coming to live on the island 6yrs ago. I have also been told by another person that there were some worse sand storms in 2005, so I don't know what to believe!

When these winds brew up, even the hotels with pools suffer, the pools become full of dust and sand and are very murky. I would advise you not to swim in the pools until the water is clear. Outdoor activities and sports are normally cancelled. The town becomes quiet, as only those that have to, venture out. On some occasions you can't see far in front of you. Someone said jokingly that it was the best time to go to the Bank as there wouldn't be anyone else waiting to be served.

I don't know how many times this happens in a year, or which months, it is as and when as far as I know, it depends what is happening with the weather elsewhere and then if it heads in our direction!

Clocks don't go back or forward in Cape Verde.
Many of the islands have seen some improvements in the infastucture in 2019. There is a very long way to go, as some islands will advance more quickly than others due to touristic pressures to develop some islands more than others. However, the less touristic islands are worth a visit to get away from white sandy beaches and see something different!
Inclement weather
Jan 07 - Some people travelled over the Xmas and the New Year holiday period to other islands. There was some fog on some of the islands. One particular airline cancelled its flights (lack of more technical equipment as they are older planes). People had already confirmed the flights were departing on time so they went to the airport. More people arrived to get the next flight, they too were disappointed. Some had to stay another night on the island. A number of tourists and business people, who needed to get back, ended up missing a connecting flight home to Europe/UK from Sal and possibly Santiago.

Some others managed to charter a plane from another airline, paying for it between them. A second plane was chartered but the price to hire it had increased. Some Brits on this later charter missed their connecting flight back to the UK, then there is further difficulty trying to get back to the UK on another flight, one person had to stay another 3 nights on Sal and also pay out another amount to get back to UK via another airline.

It doesn't rain a great deal on all the islands hence the dry and barren landscapes on some islands. Those islands with higher ground see more rain than Sal, Boavista and Maio.
August 2015: An unusual event to reach Cape Verde, we were hit by Hurricane Fred.