Airport Tax introduced. European citizens exempt from visas for visits to Cabo Verde of up to 30 day
05-Jan-2019
The requirement for European citizens from 32 countries to obtain a 30 day 'Tourist Entry Visa' ceased as of 1st January 2019. Many tourists arriving in Cape Verde on international flights this week were unaware of the new Airport Security Tax (TSA) levied on arrival at CV airports from 2nd January 2019.
Flights arriving on Sal with only short periods apart, meant that passengers would need to join queues and either show exemption or pay the new TSA (Airport Tax), generally speaking, this would be around 31 Euros per person on entry to European passport holders. For those with pre-paid visas there was more of a confusion. People were unable to be processed quickly as questions were asked and complaints were being made.
Photo below of queue at Sal Airport on 2nd January 2019. This was the first day of operation with the new changes. As this was one of the busiest days for airport arrivals, some people ended up queuing for 2-4 hours,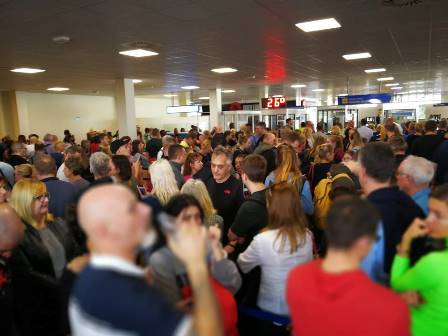 Friday was less busy at the time the Birmingham (TUI) flight arrived, even though delayed by one hour. Two couples arriving on the same TUI flight who hold another type of pre-paid visa called a 'Multi-Entry Visa' (covers an individual for 90 days) were give different information on arrival. One couple was told to pay Airport Security Tax, while the other couple wasn't. Both couples were flight only with TUI from Birmingham..
For further information on other charges for Nationals and Non-European citizens please make other enquiries.

Here are a few articles about the changes which you may find useful:

Macauhub - 28th December 2018 - Citizens of 32 European countries exempted of visa
Macauhub - 2nd January 2019 - European citizens exempt from visas for visits to Cabo Verde of up to 30 days
Macau News - Cape Verde tourism agencies think new tax only benefits large agencies - 5th Jan 2019
I was provided with a link to a pdf, that looked as if it came via a CV Government named website . The link opened to another different site where people were asked to fill out a form which seemed to be to do with the Airport Tax. A few people have tried to complete the form but couldn't, so the link has been removed.
It is hoped that Tour Operators such as TUI and Thomas Cook, will provide some helpful advice in coming days to travelers that will be affected.
TUI: If you have booked and paid for your visa in advance (prior to 7 days before departure), use your booking reference number to log back into TUI online and look for an update on visa's. Alternatively, use the old link to the form for a visa, to see what info they have posted as an update.
Thomas Cook: Try logging in online using your booking reference number to see if there is an update on visa's.
Flying with other Tour Operators. Log in online and look for an update on visa or TSA (Airport Security Tax).
The info on this page is just to help make people aware of the changes as of 2nd January 2019. It may affect tourists travelling with Tour Operators (there are other tour operators other than Thomas Cook and TUI), those on package holidays, those on flight only, on flight only one-way, on flight only with return tickets with same tour operator. There may be additional fees requested for TSA (or not), it depends on your circumstances and booking, and what has been agreed with various tour operators or by the authorities. We don't know!
Airport Security Tax (TSA) registration online web form
17.1.19: The CV Government have provided a link to a website where you can obtain info or apply in advance to register for airport security tax. Some people say they have processed their info and paid 50e in advance online (bit don't know through whom! Another person said he paid 30:40 Euro and processed it through the Ease website. Others have said they cannot enter their details successfully on th Ease website and therefore cannot pay. However, should you be paying for this in the first place? It may depend on whether your tour operator is including your TSA in your package holiday or flight price, do you know before paying? Please make your own enquiries with your tour operator.
Registration for TSA: www.ease.gov.cv
One tourist has sent in an image of a leaflet obtained at an airport which explains to some degree who has to pay what, some people are still not sure about their circumstances though! A lager image available here:
Airport Security Tax - Leaflet (128 KB)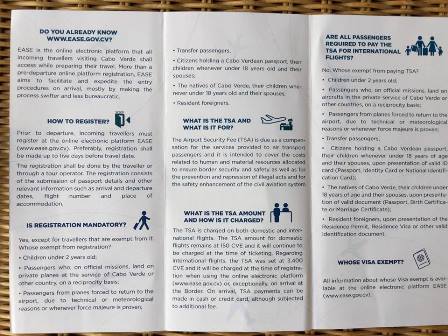 If there are concerns about the web form, processing info, inability to process info, or paying an extra amount on top of the 31e TSA (Airport Tax), you can contact Brussels: emb.caboverde@skynet.be
---
Approved comments only:
---