Go Back
09-Dec-2011 01:48 PM
Sal Island information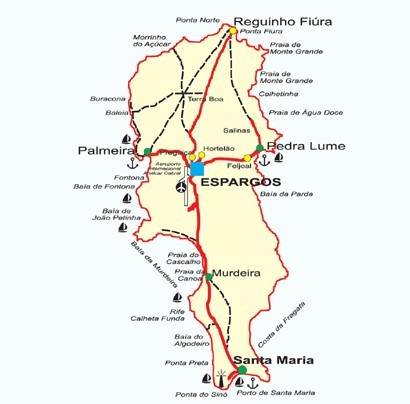 For those of you that have just seen photos in magazines, property brochures or an artist's impression of Sal you may be in for a bit of a shock when you first fly over Sal.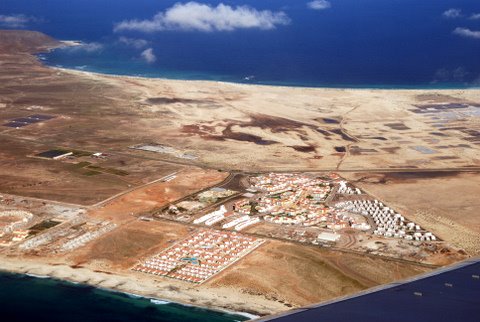 Above aerial photo taken Nov. 2010 - West Coast. Tortuga Beach Resort and Vila Verde behind it. Photo L.Aspden.

You may wonder if Sal is another island where you are landing to refuel before flying on to Sal. Nope, it is the dry barren land you have just arrived on.
The capital city of the island of Sal is Espargos, although a 'city' to many Europeans would be where there were many products, services available, it is more of a town with small businesses and stores where you can buy some products or supplies and fresh and frozen foods but therre are more mini markets here than in other areas. It is cheaper to buy some items or live in Espargos than in the tourist areas. Espargos is a short distance from the airport toward the north but central part of the island. Espargos means "asparagus" the vegetable asparagus which grows wild, it can be idendified by its yellow flowers and normally grows in sandy areas around the island. Espargos is connected with roads linking it to the port at Palmeira to the west, to Reguinho Fiúra to the north, Pedra de Lume to the east and Santa Maria to the south. The name of the airport is Aeroporto Internacional Amílcar Cabral (SID). The only agricultural area is on the flat area further to the north east and is known as Terra Boa (good land).
Population of Sal:
1970...... just over 5,500

1990.......just over 7,700..........in Santa Maria just over 1300
2010 ......over 25,000
Climate reported as.........

| | | | | | | | | | |
| --- | --- | --- | --- | --- | --- | --- | --- | --- | --- |
| Months: | Jan-April | May | June | July | Aug | Sept | Oct | Nov | Dec |
| Degrees | 24 | 25 | 26 | 27 | 28 | 29 | 28 | 27 | 25 |
Hotels
There are a number of hotels in Espargos, however most tourists travel south to the hotels in Santa Maria, the main tourist resort on the island of Sal. The hotel strip for most of the hotels in Santa Maria is on the new rodad 'Hotel Boulevard' with Oasis hotels, Crioulo, Dunas, and the hotel Sabura further up towards the Riu Funana and Garop. Further up the island within one of the resorts you have the Tortuga Sol Melia Hotel. The Portuguese hotel chain Oásis Atlântico announced their plans to open another hotel Sal. The Oásis Salinas Sea will be a five-star hotel unit with 338 rooms which they hope to open in May or June 2012.
There has not been any further announcements about a Hilton being built on the island.
Restaurants and Bars

In Santa Maria you will find numerous restaurants mostly providing local fish, but with some italian restaurants supplying pizza's and pasta dishes, some German, Indian and British quisine to.

Developments
Some developments have large plant tunnels and imported some seeds and plants. Some are starting to put small palm trees along the edges of their plots of land, before the infrastructure and foundation work commences, they will mature in time and as more go in the ground the island will start to become a bit greener. Each large development will have its own decellinisation plant and the infrastructure will include the installation of underground watering pipes for certain areas that are due to be planted up.

Most of the larger resort developments are being built on the west coast.
One large development will be importing thousands of trees and plants for planting, before owners move in.


Photos taken June/July 2010: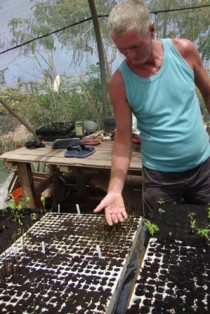 East and residiential areas of Santa Maria have hardly any greenery
:
Above - Aerial photos by L.Aspden - Nov.2010

Take a look at the Travel section for more information and the Picasa Photo Albums within the Photo Gallery.

Weddings : Read about the legal requirements for marriages in Cape Verde. We provide a choice of services. Click here for more info: Wedding Services