Fogo Island
WHERE TO STAY
We stayed at Casa Alucino. Alcindo and Laetitia have a great little guest house. About 30 euros a night for two. Email: casalucindofogo@gmail.com. They will do all meals on request, home cooked. Laetitia was a masseuse trainer in France and one of the best In Cape Verde.
Can you recommend anywhere to stay on Fogo?
---
MAP OF FOGO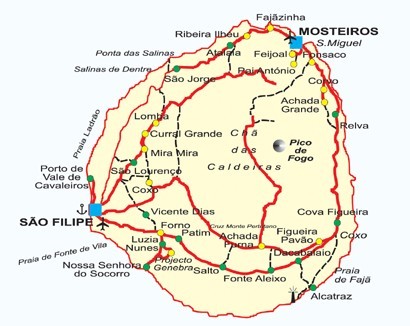 ---
THINGS TO DO AND SEE
Arriving at Fogo National Park, em Chá das Caldeiras, one of the most awe inspiring views you will ever see in you life.
The National Park on Fogo is the best place to see Cape Verde flora and fauna, some of which you will only find in this crater, and nowhere else on earth.
You an walk on the lava flow from the eruption that only came to a stop in February 2015.
The Pico towers above the other volcanos in the crater.
The roads snakes through lava fields for an hour to get to the villages that had to be evacuated. Over 1000 people had to flee.
The craters immense walls contained the lava flow. Rebuilding is gradually happening.
Can you recommend anything to do or see on Fogo?
---
WHERE TO EAT OR DRINK
Wine tasting at winery (no food though).
São Filipe: Fogo Lounge good bar. Bar Coral for food. Basic but good and cheap!
Can you recommend somewhere to eat or drink on Fogo?
---
Quick links
BLOG:My hiking trip on Fogo - by S Litchfield
---
External links:
---
Contributers: S.Litchfield.
---
COMMENT 1: