Importing goods from the UK to Sal - An apartment owners experiences
Over the last 10 years or so of owning an apartment in Santa Maria, my husband and I have used a number of different methods of bringing 'hard to get' items over from the UK.
By Container on a Ship
Originally (about 10yrs ago), we shared a container with a couple who were coming over to the island to live, they had about half a container to spare, so we brought a lot of heavier items such as furniture (mostly flat pack from Ikea), mattresses, sofas, sailing dinghy, Heinz baked beans etc in this way by ship. A few years later, we also did this to send poly-rattan outdoor furniture over to Sal with another couple who were looking to share the cost of a container. This was when it was allowed for a property owner to bring in a single container of personal possessions free of tax or duty. This meant that anything brand new (which was often the majority of the items) had to be unpacked in the UK and then repacked to look used or second hand.
Often, on arrival and inspection on Sal Island, customs would just look at the front of the container and not need you to unpack the lot. We ourselves have never gone to the expense and form filling involved in organizing a container for ourselves, we've just piggy backed off others. I have since heard that it is no longer possible to bring in a container free of tax but I don't know if this is correct.
By Air and as Personal luggage
Since then we have generally brought stuff over with the airline as we come on holiday using as much of the extra luggage allowance we are able to buy, along with anything we can fit into a kite bag (useful for longer items) or a bike bag (thin square items like panels or mirrors). We have never been asked to open anything that is packed in a suitcase or bag that looks like 'holiday luggage'. Most of which only comes one way, UK to Sal. We should now be the proud CV owners of at least 10 kite boards and 8 bikes!
To date, I have managed to bring over many unusual items in this way such as a TV, video recorder, curtains, sheets, blankets, bookcase, flat pack washing machine housing, curtain poles, mosquito netting, mirrors, bathroom accessories, wall fans, pictures, lino, rugs, halogen oven, two bar stools for our patio and yes, even a bathroom sink!
I have only been stopped once when I've packed stuff in cardboard boxes, which we had to do as it was not possible to fit the items in a case. Airport staff did half-heartedly try to stop me when I brought the bar stools through in a box but the kids were on a roll with the trolley and we didn't stop.
They did stop me when I brought two shower bases over when we were redoing the bathroom and en-suite a couple of years ago. I opened them up and explained they were for my apartment and they let me through. So, for a family of 4 on Thomson (now Tui), we got 5kg hand luggage each, 20kg of hold luggage each, plus an additional 10 kg of hold luggage each plus sports equipment of up to 32kg (only my husband) and a bike bag of 23kg, we have travelled with 195kg and I can assure you we used almost every kilo. Unfortunately kite bags and bike bags do need to remotely resemble the shape of the original and we could have maxed out and added sports equipment for the kids too but we'd run out of the right shape bags by then. So in theory, each person travelling on a TUI flight could travel easily with 90kg of luggage (at a cost of course). Every time we travel, we think this time we won't need to take as much and every year we go loaded up and come home empty. I don't suppose that will ever change.
By Air Cargo Freight
Two years ago, we bit the proverbial bullet and decided to re-do our bathrooms. We started with the en-suite as the original was installed on our bequest just before we'd bought our apartment (it had been badly installed). We'd lived with cracked wall tiles on the floor and an 8 inch step up into a tiny square shower.
I went out to Sal for a month with the children in August 2017 after arranging for two glass shower screen to be transported by plane to Sal as excess luggage. I'd figured that a month would be long enough to sort out any potential problems at the Cape Verde end.
I spoke to a very nice gentleman called John in UK from a Freight Forwarding Agency there who quoted me £760 to pack the screens in wooden crates and ship over as excess luggage by air cargo.
As it was glass, I couldn't insure it so I was taking a chance shipping it out there. Note: glass shower screens are almost impossible to get out in Sal.
After waiting a few days for a call from CV customs, I contacted John who told me it had been flown out on the same flight as we had taken. So armed with this fact, my Portuguese phrase book, the kids and a couple of local boys to help carry the screens and act as interpreters, just in case, we all took an Aluger (local pick up truck) up to the airport.
After queuing up at the wrong desk then again at the right one, paperwork was stamped and we were directed to the cargo area. Once there we were advised that they had my screens but I couldn't take them and we were sent to another queue in a different building where they would explain the reasons why.
After an hours wait, someone finally turned up and explained I couldn't take them as the weight exceeded my personal allowance and I would have to find a Despachante ( CV Importer ) to import them for me.
I was told verbally that the personal allowance was about 75kg but was never shown any documentation to support this, so I don't know how true it was/is.
Next, we left the building and headed to Espargos to a recommended Despachante and another wait. Luckily, our CV friend Alex is a great linguist and was now translating conversations for me as we'd gone way beyond my phrasebook and comfort zone.
I then had to produce the original bill to the Despachante (which if I had known, I would have arranged to have had the shower screens as 'on sale'). When I asked for a quote for releasing the screens, I first got a shake of the head and a shrug of the shoulders to say who knows. Then, when I insisted I would have to know roughly how much it was going to cost, I got a lot of sighs, and a further 20 minutes huffing and puffing opening a couple of large books and leafing through, lots of calculator work and finally an estimate for about a 1,000 euros ………yeeek…….roughly about the same amount as the screens were to buy originally!
I was told it would take a few days and to ring them back to find out the status of the importation. I was also told that when the items were ready, I could then return to the Despachante's office and pick up the paperwork before returning to the cargo terminal at the airport to collect the screens.
A week later I was contacted and told that the paperwork was ready, but apparently I couldn't collect from the items from customs yet, as they weren't ready for me. The following week I was told I could come and get the paperwork and go to customs, as customs were now ready.
The collection day was as convoluted as the first, as there were again 6 of us plus the Aluger driver.I picked up the paperwork and paid the Despachante, but before we went to Customs we were told we had to head off up to the Port of Palmeira to the Port Office Authorities, to get another stamp. Finally we headed back to the airport to the Cargo building where we were charged another 100 euros for storage!
Before we were allowed to take the screens, we were told that they would need to be opened and inspected. Bearing in mind these were packed very well in wooden crates, we then spend another hour watching airport staff try to find a decent screwdriver to open the crates. The first rechargeable screwdriver had no charge in its battery. Another battery was found which lasted about 3 minutes before losing its charge. Then finally a hand held screwdriver with the right end to share between four staff. Prizing the tops off each crate, let me at least see the glass had survived intact this far so my £2,800 hadn't been spent in vain.
The final problem occurred when we finally got the cases out of the building as the back of the Aluger we had hired couldn't be lowered, so we had to send the Aluger and driver off to Espargos with Alex and hire a different one. Suffice it to say we managed to get them back to the apartment intact in less than 3 weeks on the island.
They are now looking very good in the two revamped bathrooms (images below) and I can finally look back and smile at my experience rather than grind my teeth in frustration at the two days of my life I will never get back.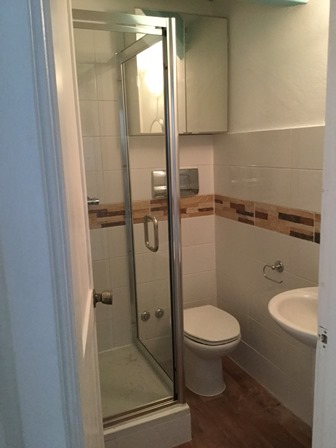 Hindsight
I went back to check the documentation for info about the weights for the shower screens. I had two crates approx 93 kg and 87kg with dimensions of about 2m x 1.2m x 0.5m each. The total came to 180kg. As there were two crates, what I should have done in hindsight was to ship them, one in my name and one in my husband's. From recollections it was a 90kg limit that was mentioned not 75kg as in my notes above. However that only ever got a verbal mention, no one could give me anything written down. It is possible that they would still have charged me, but I will bear in mind if I ever try it again.
Good luck to anyone thinking of doing the same .... A and A
---
Associated pages
You can also find related information on :
External links