19 of us from Sal had travelled by plane to Sao Vicente for the February Carnival. Our group was made up of a number of British expats and regular visitors to Sal.
Trip to Santo Antao
As part of this trip, organised by Tracey Hall, we had planned to go across to the island of Santo Antao for the day on an organised tour.
Ferry crossing to Porto Novo
We left our Hotel in Mindelo at 7:25am to take a short stroll down to the Ferry Terminal to catch the 8a.m. ferry. The ferry departed on time. The ferry crossing was pretty uneventful, apart for getting wet when a large wave hit us side on. An hour later we reached the our destination. We disembarked the Ferry headed through the Terminal at Porto Novo to our awaiting tour minibus and guide. Travelling up and up for what seemed like miles on wide well maintained cobble stones, again with multiple stops to admire the views. Sometimes travelling along what seems to be Mountain ridges with sheer drops on either side, showing stunning views, when they were not obscured by low cloud.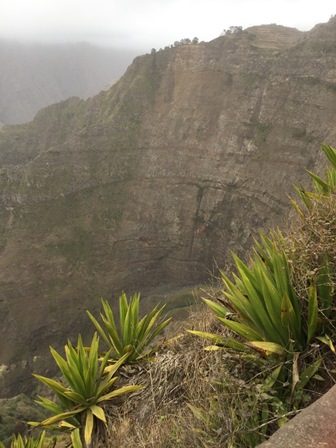 Fishing Villages and Grog
We travelled along the coastal road seeing some small fishing villages and then up into the Gorges where the life for these talented people were farming the steep sides of the mountain using fantastic irrigation systems to allow the water to flow along a terrace then running on to the one below and so on until it reached the bottom. We stopped at a Sugar cane refreshment hut were you could drink the newly pressed sugar cane and also chew on the raw cane.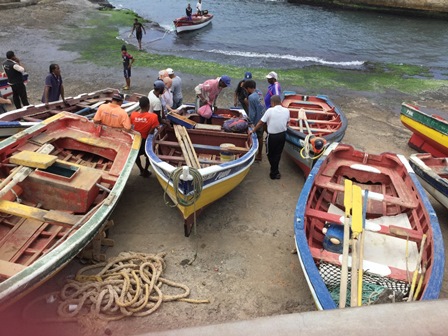 Further on up the coast road we stopped and had lunch and a cool drink in a small hotel's roof terrace. After a nice lunch we went to see a Grog Manufacturing Enterprise which still had the original press for the tourist with massive six foot tall barrels.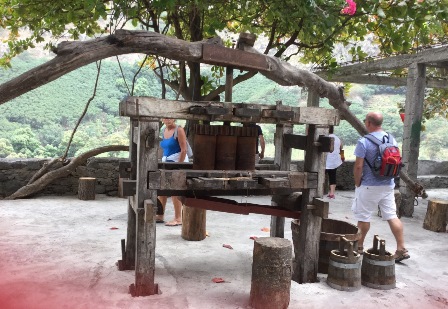 We were offered the opportunity to sample some more of the different flavours of Grog but we'd previously had some so did not partake, others purchased some bottles for presents.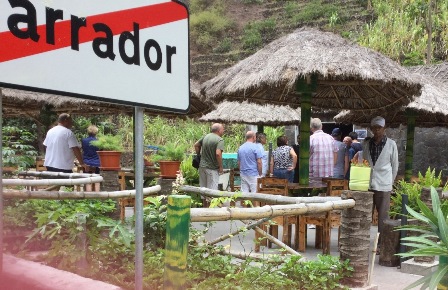 We were coming to the end of our tour but we made a small detour on the way back to Porto Novo and the Ferry Terminalso we could purchase some local cheese.
Leaving Santo Antao with thoughts on how hard life is for the local community, but what a lovely island.
The Ferry set off just after 5pm and we were back at the Ferry Terminal in Mindelo on Sao Vicente at 6pm. Just time for a quick refreshment before the Sun Set on the 'Marina Mindelo Floating Bar'with our friends. A great end to a wonderful day.