A great way to have a little break from Sal. Now we have Binter operating instead of TACV the flights are so much easier and cheaper. It's around 40euros per person one way from Sal, to the island of Sao Vicente (SV) and the boat from the port in Mindelo to the island of Santo Antao is 8 euros.
We normally head over to SV for the Bahia das Gatas festival which is normally the 2nd weekend of August. If you have ever been to the festival here in Santa Maria it is NOTHING like it, the festival in Sao Vicente is more like Glastonbury, it is held on the beach of Bahia and has almost one hundred little bar restaurants dotted around the edge who set up for the weekend selling cheap drinks and chicken/ kebabs on the bbq. Its a great atmosphere and runs for the whole weekend with Sunday as more of a family day which finishes a little earlier.
UB40
The headline act at this years festival was UB40, which we were super excited about. Normally the headline act plays in the early hours of Sunday morning, after the performers on the Saturday night. This time however, UB40 came on stage a little earlier, around midnight, rather than the usual 3/4am Sunday morning. Ali Campbell and the boys sang really well and the music was good, but not the normal high energy show the festival is used to so the performance came over a little flat. Also I think the only song everyone knew was red red wine hahahaha.
Salamansa
Normally we stay in Mindelo during the festival and get the local transport to and from the event which is 1e each way. There is normally a lot of waiting around involved so this year we decided to stay in Salamansa which is the next village along from Bahia. It was a bit of a gamble as there is nothing there but it worked out really well. The accommodation we found on Airbnb was in Franco's Beach House, it was really nice. It's apparently owned by a guy who stays there in the winter to kitesurf as Salamansa is the equivalent of Sal Island's kite beach (without the crowds) and there is now a beach bar which does really really good food, (the Cape Verdean guy who owns it trained as a chef in Paris!!!!)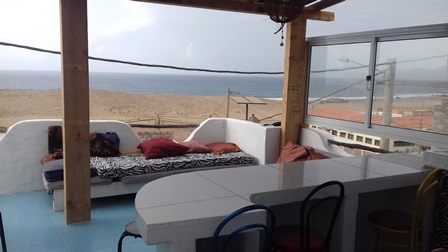 The festival itself was really good and after 3 nights of party it was time for us to get on the boat for a little relaxing time in Santo Antao. There are 4 boats per day, 2 fast ferries and one slow one, the fast one takes 40mins but you have to sit inside and the slow one takes 1 hour which I prefer as you can sit outside and enjoy the trip. The ferries go at 8am, 9am, 3pm and 4pm from Sao Vicente so there are plenty of options.
Santo Antao
When you arrive in Santo Antao its a little crazy as the drivers for the cars will all try and get you to go in their bus, they are very nice and normally work together so if you tell them where you are going they will put you on the right vehicle. Our first stop was Paul (pronounced paool), we stayed in Hotel Paul Mar (35e euros per night for 2 with breakfast) it was on the coast with amazing sea views. Our favourite thing to do while in Paul is to get the local transport all the way up the mountain to the very last stop (1e per person) and then get out and walk down, stopping in the little bars for a couple of ponche (local alcohol) along the way.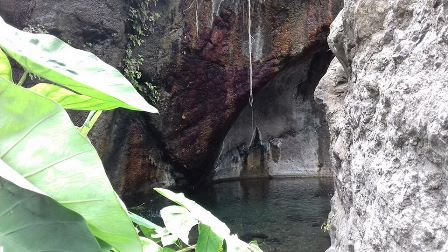 This time we were lucky enough to find a hidden waterfall to have a swim to cool down on our 4 hour walk down the hill.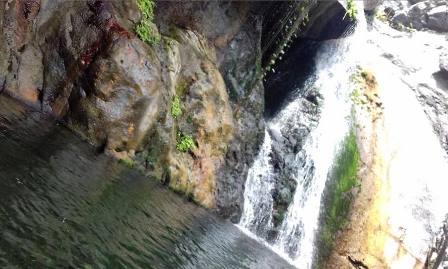 Our next stop was in Ribeira Grande. We stayed in a lovely house called Casa Santa Barbara Deluxe owned by an old Portuguese lady and it had a natural spring swimming pool. (40e per night for 2 with breakfast). The swimming pool here was amazing and at breakfast we had loads of lovely passion fruit and mango picked from the trees in the garden.
In Ribeira Grande we again jumped on a bus up the mountain to a place called Ribeira Da Tore which has what they call a tank on the hill, like a man made swimming pool that is filled with the water that runs off the mountain, there is also a nice bar and restaurant there.
Final stop was Ponta Do Sol which I think is my favourite, its where the old airport is, which is a little bit spooky, but interesting to explore. Aeroplanes stopped flying to Santo Antao after a fatal crash in 1999. We stayed in the new Hotel Tiduca which was UNBELIEVABLE!!! like a 5 star hotel in Europe, I was lost for words. It has recently opened and is again right by the ocean. We paid 45e for 2 people with breakfast.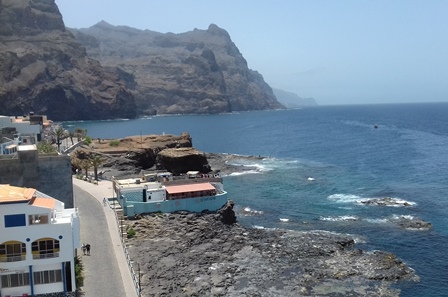 If you need any further info on travel to other islands or any help in booking your trip please let me know. surfhubcv@gmail.com