Yellow E Business Furniture and Packs
Furniture Suppliers
A number of the furniture suppliers in Cape Verde are based on Sal Island.They will supply you with information on furniture packs, items, accessories and current prices furniture. Some supply to a few other Cape Verde Islands. Register your interest early and who knows, you may save on future price increases.
Your property may not be ready for another 6/12/18 months. Some furniture suppliers may have fixed prices for these periods, but it's worth asking each of them the question, also how long it may take from order to installation so you know what the minimum time period is. New deals may come on line during the period, so you may want news from the suppliers on any new furniture packages, deals or offers.
A number of businesses below may have active links to further information.
Here you can find general information about Cape Verde Furniture Suppliers.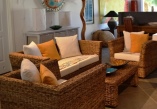 AIGA Kitchen, Furniture and accessories
We are Cape Verde furniture suppliers. We have a furniture in Santa Maria on Sal Island. We are also a kitchen and home décor store. Come visit our shop on the plaza in Santa Maria, or contact us via our webpage for more information.
Sal Island
Go to: Web page
---