The GKA Kite-Surf World Tour 2019
The forecast for the weather conditions looked good, high waves and strong winds expected. The forecast didn't disappoint.
There were a total of 52 competitors representing different countries, 39 male competitors and 13 female. The 52 included many of the local kitesurfers who were given the chance to show what they could do in the earlier heats of the wave competition.
Titik Lopes from Sal who was recently crowned Cape Verde National champion, performed exceptionally well.
By the Wednesday, the single eliminations started to sift out those who'd go forward from the quarter finals. In the men's competition, Airton Cozollino lost his quarter final heat to James Carew from Australia. Later, in another heat, Mitu Monteiro scored the perfect 10!
In the women's competition, Moona Whyte from Hawaii continued to show her prowess on the waves.
The final result of the single elimination event being:
SINGLE ELIMINATION RESULTS - MEN
1: Mitu Monteiro – CV
2: James Carew – AUS
3: Matchu Lopes – CV / ESP
4: Francesco Cappuzzo – ITA
SINGLE ELIMINATION RESULTS - WOMEN
1: Moona Whyte – USA
2: Johanna Catharina Edin – SE
3: Charlotte Carpentier – FRA
4: Frances Kelly – CA
Day 3 - Look out, here comes Airton
Having gone out early in the single elimination, Airton Cozzolino was on a mission in the next event, he went out and delivered some amazing manoeuvres in the air and on the waves.
Local Kitesurfer Djo Silva who was also the main organiser on Sal for this event, wasn't to be ignored either, he went on to compete in a heat against Airton, but again Airton was awesome as he performed some of his magic, much to the delight of the spectators. Much to nearly everyone's delight, Airton was now surfing under the Cape Verde flag, instead of the Italian flag.
There were 6 finalists left to perform in the double eliminations in the women's competition and 6 in the men's:
FINAL RIDERS IN THE DOUBLE ELIMINATIONS MEN
1: Mitu Monteiro – CV
2: James Carew – AUS
3: Matchu Lopes – CV / ESP
4: Francesco Cappuzzo – ITA
5: Sebastian Ribeiro – BRA
6: Airton Cozzolino – CV / ITA
WOMEN
1: Moona Whyte – USA
2: Johanna Catharina Edin – SE
3: Charlotte Carpentier – FRA
4: Frances Kelly – CA
5: Ines Correia – PL
6: Odile Cavine – SUI

From a personal viewpoint, watching the competition from the shoreline at Ponta Preta has been great. A number of us here on Sal, also watched the live coverage, so that we could follow the event and kitesurfers. Hopefully next year, we'll have more up-to-date info on start times and advanced notification of who was on next, this was at times confusing this year. However all in all, this was a brilliant event and the organisation was much improved, everyone involved deserves a big pat on the back.
Photo: Djo Silva (left) and Mitu Monteiro.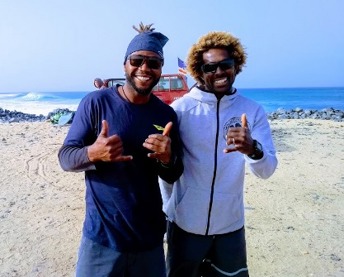 Read More on : THE FIRST DAY - 25th

Read More on : SINGLE ELIMINATIONS

Read More on: DOUBLE ELIMINATIONS AND FINAL RESULTS
GKA Freestyle competition - Kite Beach - Sat 2nd March
Arsenio Dias, one of the original Dream Big boys has realised his dreams this week on a worldwide stage with the GKA. After having a disappointing time on the wave section of the competition at Ponta Preta, mainly due to really tough offshore conditions, Arsenio has managed to come 2nd in the freestyle part of the competition that was held at Kite Beach. At 21 years of age Arsenio (known to many as Kukunia) managed to beat athletes from France, Spain, Bulgaria and also some of the more experience Cabo Verdean riders. Imagine having that dream and it coming true, not only to come second in the competition but in your own country and stand on the podium next to your hero and fellow country man, world champion 2018 Airton Cozzolino!!!! UNBELIEVABLE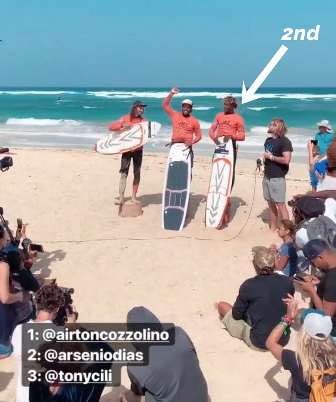 READ More on (Facebook): Donations to surf school on Santiago Island.
And watch this old video of a young Airton Cozzolino and Matchu Lopes : TWO YOUNG SURFERS FROM SAL THAT BECAME WORLD CHAMPIONS

The GKA Kite-Surf World Tour
World Kitesurfing Tour comes to Sal Island - December 2011
December 2011 and a great occasion for Sal Island as top kitesurfers from around the world come to Sal to compete, giving a number of local Cape Verdeans the chance to show what they could do. The weather conditions were not ideal so the event was cancelled after a few days.
Mitu on tour - 2010 ........ by Jerome
Mitu is following the PKRA world tour. There are already 2 events completed...Morrocco (Essaouira) the first one, that he finished 2nd and the second one in Tenerife that he was 5th. So right now he is no.2 on the ranking. There is more one event in Australia (gold coast) in December but with the problem trying to get a visa for him (as the CV government has done nothing yet of what they promise him !!!) he is not sure that he can go there. He is now in Italy to figure out of this purpose after a 3 weeks shooting/dealer new kite Bandit 4 collection presentation for F-one in Mauricius and will come back to CV end of this month.
After winning the World Title for Waveriding in 2008, Mitu was promised a special visa. This special visa has not been provided, without it Mitu cannot attend the final event in Australia. He is unable to send his passport off as he needs it to travel. It is a very difficult situation which we need resolving!
Photos below by Linda Aspden. Taken September 2010 at Pontao, Santa Maria, Sal Island, sometime after the storm had passed by the islands. If you look closely, I hope you recognise this skinny kid hovering and flying over the pontao (pier), if you don't, I will give you a clue, he became the Freestyle Strapless World Champion in 2015.... yes, another talent from Santa Maria, Sal Island!
Mitu Monteiro returns to Sal triumphant
Mitu Monteiro – 2008 World Kite Boarding Champion.
Mitu Monteiro a 25yr old from Sal Island, Cape Verde who participated in the full World Tour for the first time this year, won the World Kite Boarding Championship for the 'Wave' discipline. Mitu, who had competed in single competitions on previous occasions, participated in the tour and events held in France, Portugal, Brazil, Morocco.
There are three disciplines: Freestyle, Course racing and Wave. Over 100 competitors from various countries competed overall and over 50 entered the 'wave' discipline.
Mitu's winning photos: Mitu Monteiro
Oteniel Jorge Monteiro, otherwise known as Mitu was honoured by the Mayor and supporters at a presentation event held at the Camara Municipal building in Espargos on 14th Nov.08
The result table also showed that Kirsty Jones from Wales won the womens Wave discipline.
Photos of the Morocco event : All pictures from Carlos Delicado.
Welcome home photos Mitu's return and arrival at Sal Airport : Crédit photos: Pascal Laborde. Welcome home Mitu Monteiro
Photos taken of Mitu, the presentation and video footage. See if you can spot a very young teen and future World champion, Matchu Lopes, one of many budding kitesurfers at the ceremony that came to cheer and congratulate: MITU MONTEIRO - PRESENTAION - 2008.
---
Related Links