Maio Island
WHERE TO STAY
Kaza Tropikal has 4 guests rooms and they are situated 150 metres from Bitxe Rotxa.
Villa Maio is a three bedroom villa, with tropical garden, perched on a cliff top with sea views, shared infinity pool and lovely beaches. Comfortable, spacious, secluded, tranquil and unspoilt: Villa Maio
Can you recommend places to stay on Maio?
---
MAP OF MAIO ISLAND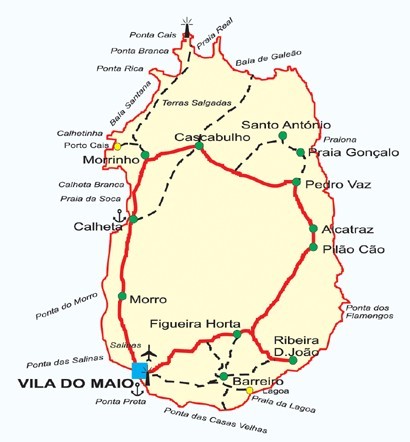 ---
THINGS TO DO AND SEE
The Maio Biodiversity Foundation was established in 2010 when the need for conservation efforts became evident in Maio, Cape Verde. The goal of the Foundation is to protect the unique fauna and flora of the island, and at the same time create opportunities and long-term benefits for the people of Maio. The Foundation was approved on March 5th 2010 by the Ministry of Environment (Boletim Oficial, III Serie, Numero 10, page 178). Maio-Biodiversity
Activities include: Bicycle hire, therapies for wellness and being, fishing, snorkling, visit to see arts and craft, truck excursions, walking tours, night time excursions, scuba diving and sightseeing.
Can you recommend things to do and see on Maio?
---
WHERE TO EAT OR DRINK
In Vila Do Maio there is the Big Game restaurant. On Bitxe Rotxa beach at Cidade do Porto Inglês (Vila do Maio)there is Bar Tropikal.
Can you recommend places to eat or drink on Maio?
---
History of Maio Island
Maio is one of three flat islands in the archipelago, the other two being Sal and Boavista.

This island was an old volcano. It has been recorded that tests on marine sediments found on the island are deemed to be 190million years old.

Before Maio started trading in salt, the island was suitable for grazing cattle and goats, but as the vegetation slowly disappeared and numbers of cattle and goats on the island began to dwindle.

There are two large salt-pans, one in the northwest the other in the southwest. When the trade in salt and lime started, donkeys carried sacks of salt to boats that could ferry the salt to the bigger ships anchored out at sea. These ships in the early years transported this cargo to Europe, America, West Indies and Africa.

Some areas in the east have agricultural land and there are other areas of reforestation.
---
Quick links
{tag_icon} Maio News - December 2016 ({tag_filesize} KB)
---
External links
---
COMMENT 1: