Santiago Island Cape Verde
Flights
Always pre-check your flights from all islands. Contact the airport before leaving your accommodation, or the day before if it is an early morning flight the next day. Some schedule flights are occasionally brought forward to an earlier flight time.
Cabo Verde Express do provide special offers for flights between islands. Its good that we now have two airline companies offering an inter island flight service. However the Halcyon air flights may have conditions as to when you fly and return, with less flexibility as they are normally charter flights.
From Santiago you can fly to the Canaries, Boston and Brazil.
Airport
It is a much busier airport than Sal and the even smaller airport on Sao Vicente. I did not notice as many shops or offices there as there is at Sal airport. Like Sal, the Internal Departures and Arrivals areas are separate to the International Arrival and Departures areas.
The taxi from the airport to the hotel cost us 1,000 escudos, but on return another taxi only cost us 400escudos!
---
WHERE TO STAY
Can you recommend places to stay on Santiago?
---
MAP OF SANTIAGO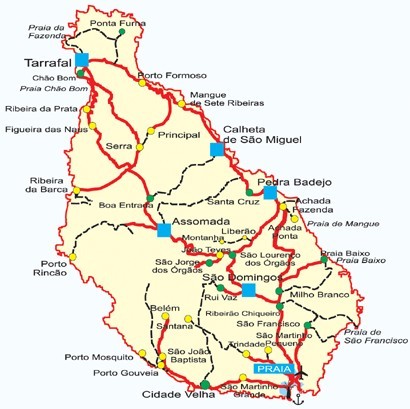 ---
THINGS TO DO AND SEE
Can you recommend things to do or see on Santiago?
---
WHERE TO EAT OR DRINK
Can you recommend places to eat or drink on Santiago?
---
History of Santiago Island
An island of mixed fortunes. It is the largest island in the archipelago. It has the highest population with over half the population living in the capital, Praia.

The landscape varies from one area to another with some mountains, white sandy beaches, forestation and agriculture to gravelly landscapes devoid of any greenery. An African and European mix of people and culture.

Santiago previously Sao Tiago (St.James) was discovered and first settled on in 1462 by Antonio de Noli and Diogo Gomes together with a small number of other people from the Algarve, Portugal. Whilst other islands concentrated on trading in salt, Santiago which some locals still refer to as Cape Verde flourished. The island initially traded in slaves and was used to resupply ships.

It was the area of Ribeira Grande now known as Cidade Velha that became the main settlement for trading. Later, Portuguese ships stopped at Ribeira on their way to Brazil and India. At that time it was reported that the valleys had groves growing various fruits.

After a French raid in 1712 which robbed the Cidade Velha of its wealth the settlement started its demise and interest was being shown in Praia becoming the capital. The town of Assomada has recently been granted the rank of Cidade.
---
Quick Links
---
External links
---
COMMENT 1: