Fogo Island
WHERE TO STAY
We stayed at Casa Alucino. Alcindo and Laetitia have a great little guest house. About 30 euros a night for two. Email: casalucindofogo@gmail.com. They will do all meals on request, home cooked. Laetitia was a masseuse trainer in France and one of the best In Cape Verde.
Can you recommend anywhere to stay on Fogo?
---
MAP OF FOGO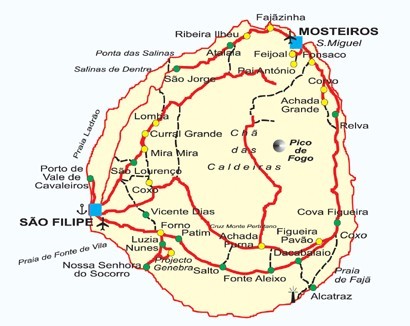 ---
THINGS TO DO AND SEE
Arriving at Fogo National Park, em Chá das Caldeiras, one of the most awe inspiring views you will ever see in you life.
The National Park on Fogo is the best place to see Cape Verde flora and fauna, some of which you will only find in this crater, and nowhere else on earth.
You an walk on the lava flow from the eruption that only came to a stop in February 2015.
The Pico towers above the other volcanos in the crater.
The roads snakes through lava fields for an hour to get to the villages that had to be evacuated. Over 1000 people had to flee.
The craters immense walls contained the lava flow. Rebuilding is gradually happening.
Can you recommend anything to do or see on Fogo?
---
WHERE TO EAT OR DRINK
Wine tasting at winery (no food though).
São Filipe: Fogo Lounge good bar. Bar Coral for food. Basic but good and cheap!
Can you recommend somewhere to eat or drink on Fogo?
---
History of Fogo Island
There is a small museum on the island which provides some information on the islands history. The island was discovered by Antonio Noli in 1460. The original given name of the island was Sao Filipe (St.Philip) but later the name changed to Fogo (Fire) following a volcanic eruption in 1680 which lasted a few years.

Like other Cape Verde Islands, Fogo was settled on by the Portuguese in 1500. It also traded in slavery.

Portuguese Aristocracy returned to Portugal due to the 1910 civil revolution, however civilians remained on the island. Fogo is also well known for its' wine production. It is claimed that vines were originally brought to the island in the 19th century by a French Duke. Many of the people that live on the islands are fair skinned with blue eyes and blond hair. They are direct descendants of the French Duke.
Most recent volcanic activity

In November 2014 it was reported that volcanic activity had commenced on the island, the first time since 1995.

While dramatic photos were being taken of the lava, clouds of smoke and gases emitting from the volcano were a big concern to local people that farmed the land and lived in the villages.

Reuters reported. "The potential is for the total destruction of Cha das Caldeiras, one of the most fertile regions of Cape Verde."

More on the eruption from the Daily Mail: FOGO-VOCANO-ERUPTION
---
Quick links
BLOG:My hiking trip on Fogo - by S Litchfield
---
External links:
---
Contributers: S.Litchfield.
---
COMMENT 1: